After a three year covid hiatus, the Crab ventured to American soil for the 1st time. The 21st Hairy Crab Invitational was held in St Petersburg with the theme, Beaches and Holes. Crustaceans arrived from far and wide to partake in the Florida hospitality. On the course, local knowledge prevailed with the team of Swampy and Doddsie mounting a final two day charge to victory. Newcomers Big Curt and Caddy Kevin tied our furthest traveled pair of S2 and Has to round out the money in 2nd.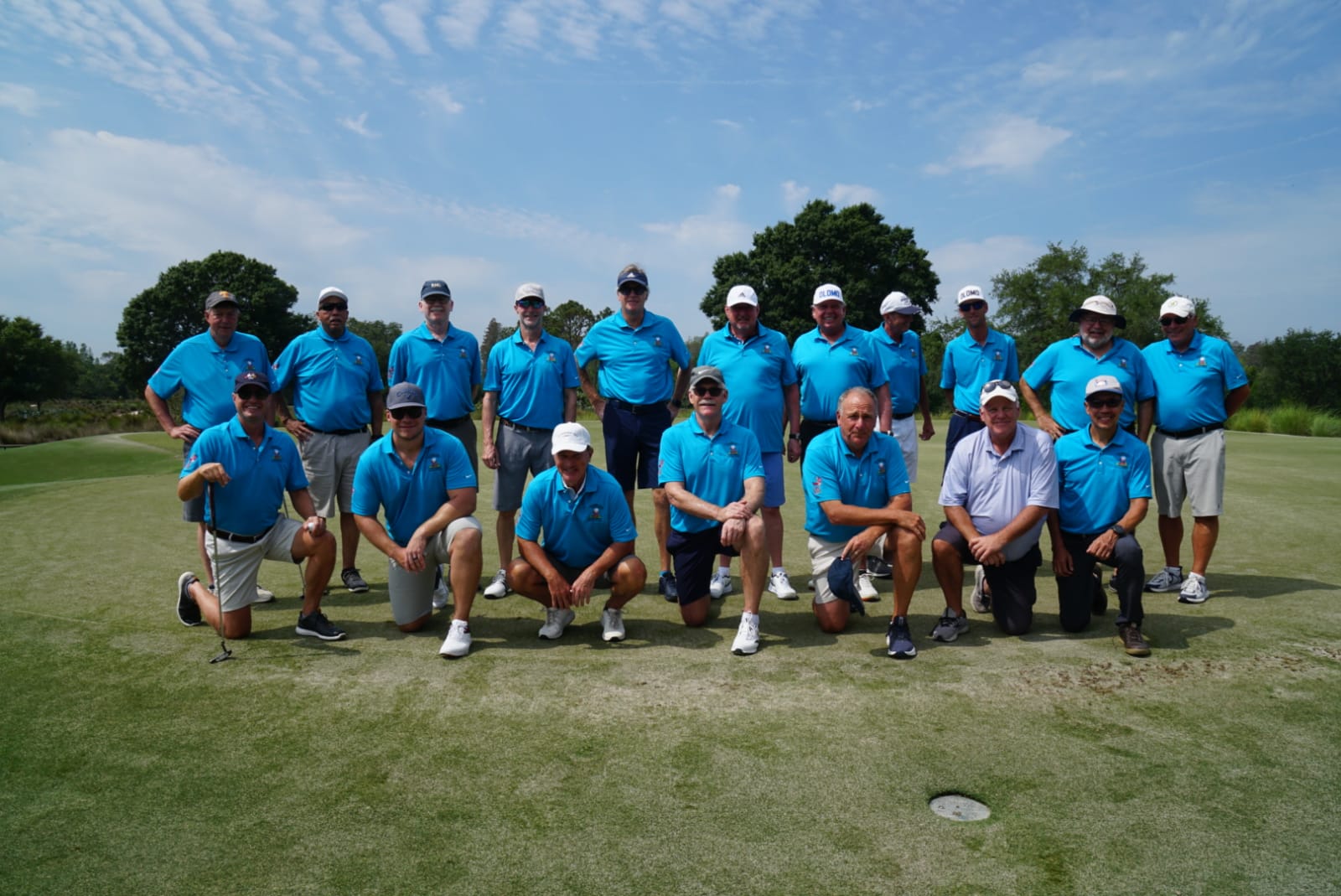 Joey T organized a fantastic first two days at Tampa uber-club, Old Memorial GC. Dow, his father Ed, Jimmy Hot Dog and the original Jolly founder, Jimmy Holson all joined the field on practice day making for a wonderful and long overdue Hairy/Jolly reunion. Jimmy H and Chappy proved the champions of the late night drunken Bocce competition.
On the course Monday, S2/Has and Lauty/Chappy Jr led the Best Ball at -4 with all the field within striking distance after the first day.
The evening's charity auction yielded a nice haul for this year's local beneficiary,
Parc Center for Disabilities
, who have long counted Stevie B and his Dad among their supporters.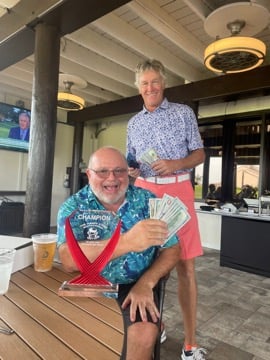 Tuesday the field moved to the Feather Sound CC course. S2/Has held the lead with an impressive -9 scramble matched by Stevie/Duke who solidified second. Swampy/Doddie's only took 22 putts firing a day's low -10 to move up to 3rd. PC "I own it"/Pin became the week's first casualty losing touch with the field with a +4. Social Chairman Duke arranged a nice evening repast at Sauvignon in the St Pete party zone.
Riding Swampy's laser irons, Swampy/Doddsie fired the only sub-par alternate shot on Pasadena Yacht & CC to pass the leaders and claim the title. Newcomers Big Curt and Caddy Kevin shot even par to climb into T2 with overnight leaders S2/Has. Lauty and Chappy Junior claimed the Toilet Bowl while veterans PC and Pin went wire to wire DFL.
Thanks to our hosts, Old Memorial GC, Feather Sound CC, Pasadena YCC, the Hyatt St Pete and Sauvignon, all of whom did a great job. Thanks to our organizing committee of Joey, Swamp, Duke, Stevie and Doddsie. Thanks to our travelers for making the effort to come from Thailand, Malaysia, Hong Kong, the Bahamas, Denver, Marin County, Poughkeepsie and of course, Monterey, Tennessee. Our rookies Big Curt, Caddy Kevin and Chappy Junior were all welcome additions. Thanks to Hasanand for tons of pictures. Finally, a big thanks to our charity contributors.
All in all, it was great to get the gang back together again. A good time was had by all. Can't wait to do it again.