Day 1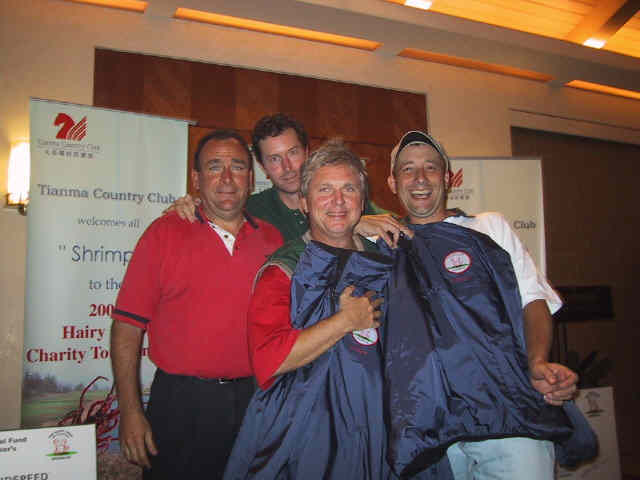 Inspired by another Beck video masterpiece and a record setting Calcutta pool, the field arrived at Shanghai West ready to rumble in the excellent fall golf conditions. The result was the tightest result in Hairy Crab history with a 4-way tie for first and the entire field lying within six strokes of the lead.
Watkins/Looram and Moose/Messner shared the lead at 69 with surprising upstarts Wentling/O'Connell and Farmer/Mulligan.
Peter Grant became the first Clam champion in Crab history winning the inaugural Clam Stableford by 7 from massive Steve Parker. Unfortunately, Grant's tournament would be cut short later that evening in a Long Bar dancing incident with Loco and Looram.
The field retired to Mexico Lindo's to fuel the fires for Saturday's round.
Day 2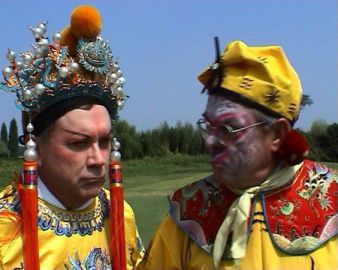 Traditonally the toughest day to the Crab, Saturday's alternate shot at Qi Zhong was no exception. Dodds/Varconie faded early with a front nine net 45, only to be tied at 157 by Airdrie/Lomason who holed a 40 footer to save an 11 on #17. Other casualties included Jared/Blackwood, and first day leaders Watkins/Looram and Wentling/O'Connell.
At the front of the pack, Moose/Messner took control with an outstanding 68 for 137. The inlaw/outlaw team of Karlsson/Wellins shot a dazzling 69 tying Farmer/Mulligan for second at 140. The rest of the field maintained contact and stayed in the hunt for the big Crab payoff.
In Clam action, Mike Plaspohl bested a wobbly field by 10 while his playing partners set records for beer consumed down the stretch.
The evening was remarkably injury-free despite mass quantities of sushi and saki at Xin Le Lu Sushi.
Day 3
Excellent fall weather greeted the players for the third and final round at Tianma. Jared/Blackwood charged from the back to record the best modified Stableford of the day at -22. This earned them a tie for 6th in the money with Companion/Hamilton, Cornelius/Newcomb and Marsh/Duffy. As darkness fell, no serious challenge had arisen to the championship team of Moose/Messner. Beck/Falconer and McCann/Tatelbaum shared joint 2nd while the surprising Farmer/Mulligan shared 4th with Burkett/Ryan.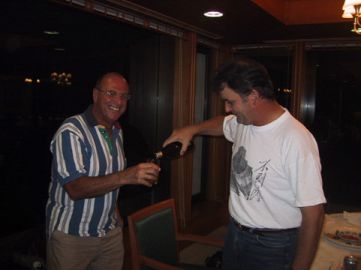 At the back of the pack, Airdrie/Lomason nailed a forty footer for the second straight day. This time it was for a net eagle that sealed the fate of Dodds/Varconie for DFL.
Jim Ledage set a Clam record total of 8 points to claim Sunday honors over double bridesmaid Craig Daniel.
The field retired to the hospitality of Tianma's dining room to celebrate the victors and divide the spoils.