A Success Story
The Fudan University Childrens Hospital authors success stories every day for children and their families in China. One story hit close to home for the organizers of Hairy Crab Charities and our friends...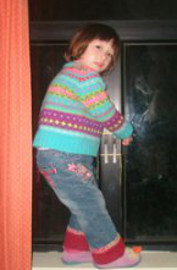 "It was an agonizing 25 minutes waiting to see Serena get resuscitated and start breathing on her own. Her heart stopped for a few minutes in there too. Initial evaluation from the NICU was Serena was paralyzed from the waist down. Check out the photo from tonight, where she has climbed up on the window sill by herself and is clowning around like one would expect from a girl born in the year of the monkey!"
– Mark Stevens, Serena's father, 2008
Xmas Eve 2004
Tonight was a regular night in the Long Bar, though maybe a little slower than usual. Many of the regulars were out of town. A few stopped by for a drink or three before going to join family or more respectable friends for Christmas eve. Christmas music played incongruously in the background.
The usual banter pervaded. We have all been there before, but there was a nice comeraderie in the few of us sitting around on Christmas Eve working through the ups and downs of the past year.
Just as we were agreeing that the last year has been a real roller coaster-this seemed amazingly insightful at the time--in walked Mark Stevens, whom many of us had not seen in a long time. Mark, the "Guru", due to his proclivity at liar's dice, used to be a very regular at the bar. Then he went and got married and had a child.
On this Christmas eve, he looked bedraggled.
As it turned out, his wife had given birth to twins 14 hours earlier. He told us about what had transpired: The first baby popped out fairly quickly and uneventfully. The second had all sorts of problems--she came into the world failing and without breath. It was very dangerous.
The child was immediately sent to the hospital's intensive care unit.
Fortunately, hours later the doctors pronounced her safe and fine.
While the general consensus at the bar was, "That's great. Are you buying a round?'"
One person asked Mark: "Which hospital?"
"Fudan University Childrens Hospital", he replied.
Boom! It donned on all of us at the same time: That is our Intensive Care Unit!
As the many of us around the table realized what had just happened, a few eyes teared. His daughter's life had been saved by our stuff---by us!
Oh god, at the time, it was just money and it seemed like such a nice thing to do. Yet here we were in front of a friend, who's child had been saved--- by our stuff. As I say, many of us cried, at least a little.
The world is such a mysterious place---it all seems so random. Who knows what forces got our equipment and the Guru's one minute old daughter together?
I guess we can only be thankful and in awe that it happened. A few of us have shed more than one tear on this amazing evening. .
So , on this very special evening, I can only think to leave you with one thought, "You have done good."
Oh, and maybe one more thought, "Drink more next year.....it's for the kids!"
I wish for you peace and joy....
and to all a good night!
With the deepest feelings for my friends.
May your heart always be joyful......
Joe T.
Xmas 2004
Follow Up
From: Mark Stevens
Sent: Sunday, February 13, 2005
Subject: twin's update
JoeyT,
Wishing you a most prosperous year of the rooster!
Wanted to give you an update, and hope you can also pass this along to all the long barbeerians and hairy crab guys.
Youngest twin Serena did time at the Fudan University Childrens Hospital on Fenglin Lu neo-natal ICU. 7 days in an incubator in critical care, then another 11 days in intermediate care. The critical care unit undoubtedly saved her life.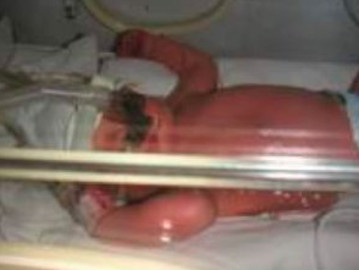 Serena's suckling ability was terrible, and she could really only get down about 10% of the formula she needed, and the rest through a feeding tube through the nose to her stomach. She just wasn't getting better. All the resources go to the critical care unit, and the intermediate care just couldn't give her personal attention. So 18 days after being born, I was able to move Serena back a room at the World Link in-patient center where she was born. My wife Sunny, other twin Audrey and myself all moved in with Serena at World Link. Eldest daughter Jacqueline joined us for some of that time. We ended up spending another 18 days at World Link.
Been home for two weeks now. Everyone one is healthy and happy.
Serena's 1 month CT scan was 100% normal, and laid to rest fears of permanent brain damage for being born blue, limp and not breathing. Serena is sucking down formula like a champ (or getting the occasional assist from a high tech baby bottle) and putting on weight really fast. Audrey drinks like a camel and is working on a triple chin.
Sunny is more or less recovered, and the nightmares stopped the day we moved in together at World Link.
Not sure if Audrey and Serena are identical or not. They've certainly proven themselves to be individuals though. Will need to do a DNA test later to determine if I've got identical twins.
A heartfelt thanks to you and all the guys for getting the NICU started. Those fine folks look after an amazing 120 new borns practically every day.
garu