It was raining Cats & Dogs in Shanghai and Hong Kong, meanwhile the Crustaceans were running loose in the hills outside Kunming under bright sunny skies when the 11th annual Hairy Crab Invitational commenced.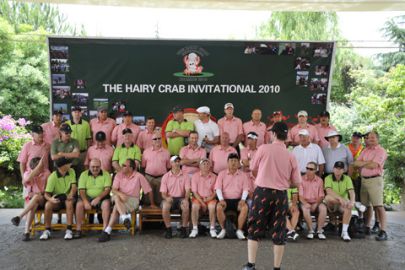 Marvin Gaye's "Sexual Healing" blasted out thru the speakers at the opening photo shoot - sending a bit o' love to the world #1 after his rough last few months - and the teams grabbed bottles of Jack and Finlandia for the coming best ball battle on the Mountain Course.

DAY ONE

E.B. and G.R., the 2-letter-acronym twin sons from different mothers, raced out of the gate with a flurry of birdies leading to a 69 on the Mountain Course, which could have been much lower had the Great Leader not taken a detour into the trees and Grant running out of cold beer near the close. A solid performance nonetheless.

Stylin' John Wong and Canuck Corey Coleman matched their 69 with a solid ham 'n' egg performance and appeared to take charge, but it was the inaugural year 2000 Shrimp Champ Rob "007" Formon coming out of shellfish retirement to draw rookie Scott Pollack and setting the pace with a 4-under 68. "This is how it's done son," he was overheard coaching the youngster who's short game is said to be more unstable than Uranium-235. "You just keep pounding those drives out there and the other teams can eat dolphin excrement."

Defending champs Horse and Papi-san stumbled to 81 and looked as though they might be the second team in a row to notch a "first to last" finish. Perhaps the South African's nimble mind was wandering, back home where his lovely pregnant wife is weeks away from popping out their first child, and to the dilemma of whether the young tyke should start with Cricket, Golf or Greco Roman ... at age 2. The Horse also clarified for a stunned audience of reporters late that evening that he is not to be regarded as a professional athlete, former or otherwise, and prefers his golf to stand on its own. Meanwhile Papi-san scoured the room for someone who had yet to make an eagle.

Also lurking in the shadows was Mark "the stallion" Brandin ridden by his capable jockey, David Heap, finishing with a 2-over 70.


DAY TWO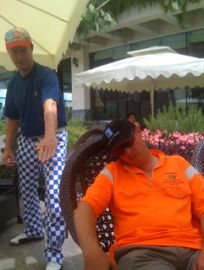 Sammy and the Gobbler awoke early for day two's competition, or did they simply not go to sleep, nobody is sure, probably the latter, and it reportedly took them until 5:30am to finally wake up Dr. D for a drink. Word has it that they wanted to go over their opening round 73 shot by shot over a wee dram and prepare to scramble the jets for the Lake Course.

SL Goh showed superhuman restraint by not consuming a single drink playing with the Pin and their team paired with Sammy and Gobbler. The Goh Man and the Pin carded a respectable scramble 68, clawing their way several rungs up the leaderboard, while the Gobbler set a new course record with 5 whiffs and Mulligan ran out of synonyms for 'feck' and still couldn't find his jumper. Still you gotta give him credit for his first outing as a Crab. You da man Sammy.

Major turnaround performances were lodged by Keano and overseas rookie Danny Aronzon, Nicol and Dr. D (definitely not playing 'animals' that day), Horse and Papi, Waddy and Mad Martin, plus Rienk and Doddsy setting up an epic battle in the toilet bowl. Marky Middle Earth Loo and his crafty shrimp Vinnie Colozzi also gained ground, though they clearly let a few slip away.

Cave Chapman & Harley Suzuki, Goh-Goh Gary & Sharad BP, and Hedgehog & Duke all blasted to 64s on the windy Lake Course. The Hog apparently learned from his previous venture with Duke a few years back in the Buffalo, resisting the urge to explain the history of the greens to Duke, who canned a week's worth of putts and even gutted out mandatory tee balls on #8 an #9. 007 and the Uranium Kid also carded a 64 to claim the final pairing for Sunday's round. Loudmouth gear was all over the TV and web coverage.

The day however belonged to Yoda and the Robster, who drew upon memories of his victory two years back with Swampy Marsh, and the team hit nearly every green to catapult forward with a 63. The Stallion and the Jockey steeplechased to their own impressive 63, joining 007 and the Uranium Kid in the final group.


DAY THREE

The entire field of crustaceans knew instinctively that it was in for an epic battle in the alternate shot when it awoke in the early blurry hours of the morning to find the Pin actually vertical and smacking range balls at 7:55am. Game on boys.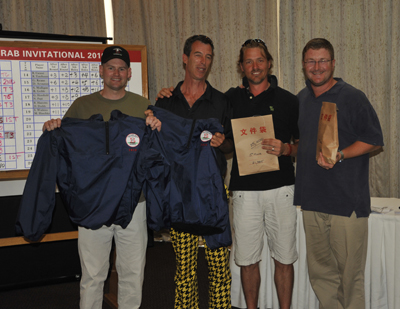 Swampy Marsh and Joe-T busted out of the golf intensive care ward to fire a solid 1-under 71 to snatch the Toilet Bowl title away from Horse & Papi and Brucey & Ron T. Joe rushed back to Shanghai after the round, eschewing his normal autograph session and post-round gallery banter, to finish picking out the linen and reassure his sparkling bride in the final days before his impending nuptials. Way to go Joe!

Marky Loo and Vinnie started hitting on all cylinders to card an impressive 66, the third best score of the day. Also finishing T-3rd were Hedgehog & Duke, whose putters cooled off, along with Corn Dog & Freddie Funk Bruton, who raced to the day's low score of 63.

The Stallion and Jockey ran out of hay to finish with an even par 72 and a T-6th with Goh-Goh and Sharad. Their playing companions 007 and the Uranium Kid were plotting their way around the course and hanging around atop the leader board. Meanwhile Yoda and Robster kept hitting fairways & greens and finished with a flurry of birdies to reach 15-under 201, prompting team owner Nigel to remark "that's what I'm talking about baby!"

It all came down to 007 and the Uranium kid, facing an uphill birdie chip on #18 for the tie and a playoff ... but the chip came up short and they rapped in the par for a sole 2nd Place finish at 202. Not bad for a (formerly) washed up Crab and a Rookie Shrimp.

Harley was grinning and celebrating with Jack as Loudmouth pants finished in 1st, 2nd and 3rd place in the tourney. Damn we looked good this year in pink and green. The Pin himself confirmed it and if there's one person who can spot 'gay' it's definitely him.

And so in the end, the history books would record that Yoda McGrail, swing guru to many a Crab, Shrimp & Clam alike, in a Cinderella story performance -- no wait, make that a Bob Marley performance -- had finally claimed his first ever Hairy Crab title. Congrats to Mark and Rob.