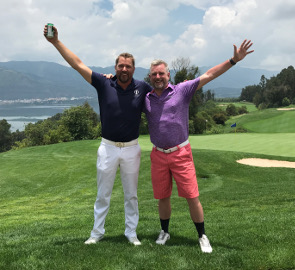 Horse whispered his trademark dungeon-tested safe word into the Goose's ear, compelling him to clear the intimidating ravine, cleanly hit the green and hole the tricky final putt to clinch the 2018 Hairy Crab title.
Sunday was poised for a shootout with four teams, Cowboy Bill & Doc, the Nice Guys, Horse & Goose and Choo Choo & Fckin Eddie all separated by a single shot after Saturday's second round. Three teams stepped to their final hole approaches with a great chance to win. Bill & Doc found the crap. Choo & Eddie found the bunker. Horse & Goose executed a regulation par on the anything but regulation, Spring City Mountain Course final hole, to win by one.
Defending Champion Bubba Tom's newly acquired bionic body and newly acquired partner Pat the Pilot lost their safe word early going wire to wire for DFL.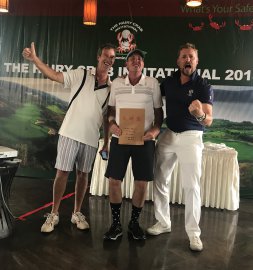 Record setting, most expensive team ever, China Irish & Random, narrowly averted the worst ever ROI title with the minimum payout for Toilet Bowl 2nd, losing the loser's bracket to Yoda & Duke by a stroke.
Other records set included, "Most Painful Injury" to Mr. Gorbachev who passed a kidney stone Saturday morning and "highest average calcutta price" thanks to rookie auctioneer Slim Shady and the two safe word muted betting syndicates led by Horse, Gobs, Duke, Papi-san and Go-Go.
The final record was the revelation of course, of "the most flacid-producing safe word", "JoeyT", in use by over half the field inspired by our MIA leader. Meanwhile, Gary Go-longer's acting career premiered to rave reviews with his titilating performance in Wicked Hook Production's "What's Your Safe Word ?".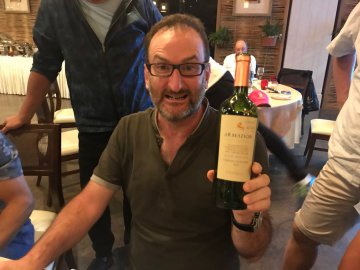 Saturday night included the first ever Hairy Crab Wine Tasting which featured the "best ever use of a lazy susan" and yielded some interesting results. China Irish won both "best palette" and "worst bottle". Horse opened his winning weekend account with the "best bottle".
Thanks to Joey's canvassing, Stew's auctioning, our generous donors and bidders, Bubba's ticket hawking and the aforementioned calcutta betting another huge pile of cash, ~RMB310k/$48k, was raised for the One Sky kids.
More thanks go to Stew pulling double duty as Director and MC, Yoda's cooking, Eugene manning the computer, Charlie's beer & shirts, Go-go's fish, Pat & Gavin organizing the wine tasting, Doddsie for the bags and the website, our Spring City hosts and everyone else who pitched in.