Day 1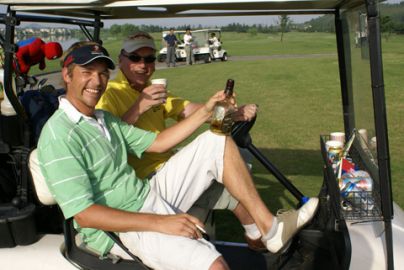 The threat of light early round rain didn't dampen the spirits of the Singing Pro David Roy and his partner Rob "from Nike" Callaway who grabbed the early lead at -8. The Suzhou Sun Island Scramble yielded a tight leaderboard with Jones/Apte and McGrail/Haschka on -7 and Horsfield/Mulligan and Beck/Hamilton close behind on -6. The entire field stayed within 10 strokes with Quicho/Varconie bringing up the rear on +2.
Stefan Keunzli fired a fine 34 Stableford to win the Clam day. Karlsson and Gramm were close behind on 30 and 28 respectively.
The Singing Pro's day didn't end on the course as he joined Moose and Crowe on stage at Mexico Lindo. After the evening's entertainment, the field retired to a quiet night in Suzhou where no injuries were reported.
Day 2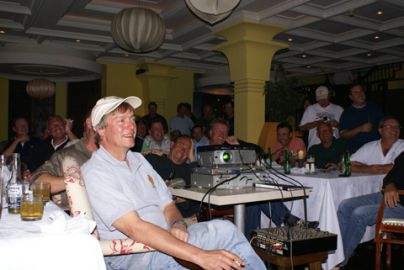 Crab Rookie Grant Horsfield and Shrimp Union rabble rouser Sammy Mulligan got blitzed and than blitzed the field in the Shanghai Links best ball with a score of -6. Their two day total of -12 left them 2 shots clear of first round leaders Roy/Callaway (-2/-10) and 3 clear of Beck/Hamilton (-3/-9) and Jones/Apte (-2/-9). Wedan/Dodds (+6/+7) tanked for the 2nd straight day to set the bar in the race for DFL.
Long time sponsor Craig Daniel claimed his maiden Clam victory with 31 Stableford points besting Keunzli and Gobel by one.
The field enjoyed a rousing dinner at Sasha's featuring the spooning of the Pin and record setting auction generosity.
Day 3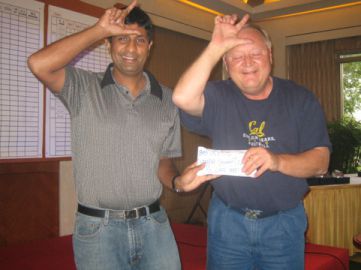 Despite a harrowing flashback taxi ride to Tianma, Horsfield/Mulligan kept their composure and lapped the field in the alternate shot to claim the inaugural Caldwell Cup. Grant & Sammy's -7/-19 left them 6 shots clear of runners up Jones/Apte (-4/-13) and 8 clear of 3rd place Roy/Callaway (-1/-11). Beck/Hamilton (E/-9) held off a charging Cornelius/Blackwood (-3/-8) for 4th and 5th. A logjam of Keane/Newcomb (E/-7), Sturat-Young/Crowe (-2/-7) and McGrail/Haschka (-4/-7) shared the final money spot.
At the bottom of the table, Olson/Majumder won the inaugural Toilet Bowl with -4 on the day. Atafua/Papi (+2/+7) charged to share DFL with Wedan/Dodds (E/+7). Anyone possessing the currently lost DFL trophy can deliver it to Mexico Lindo as Sita won it in a countback.
Stefan Keunzli moneyed for the third straight day with a 32 point 2nd place performance. His overall total of 96 points won him the Clam championship and a promotion to next year's Shrimp ranks. "5x" Joel Forrest won the Clam day on 33 points. Thomas Gramm picked up his second third place finish of the weekend on 31 which garnered him second place Clam overall.
The field retired to the Tianma banquet hall for awards and another record setting round of auctions. The champions were toasted...enough said.